i know bloggers complain a lot about daylight savings and losing light and time to go outdoors and take outfit pics.
today
tonight as i drove past a deserted parking lot i realized that 1. i should do an outfit post, 2. i didn't have a photo and the sun was gone, 3. the roof was completely deserted
(well, except for this one couple in a random car off in the corner, hmhmm.. hehehe)
and completely lit up.
so this was my attempt at a 'night shot' ooh i'm so artsy. semi fail though. these photos are B&W not because i am so so artsy, but more to get rid of the icky yellow lighting. mneh, oh well... let's go with artsy.
miss sixty flare jeans, lace body from Urban Outfitters, DIY YSL croptop, reworked F21 robe, Penny Loves Kenny oxfords, cuff bracelet from NOLA
anywho, i've been tagged by
tink
and
kathleen
for blog awards! 7 facts about myself? any excuse to babble - let's gooooo
1. my parents recently got a bag of dark chocolate covered pomegranates from Costco (read: Costco SIZED). mmnomnom... it's been the death of me
2. ditto for Cheez-it Party Mix. although there's a disproportionately large amount of pretzals in here.
3. i really am quite retarded when it comes to sewing and crafy stuff. really. despite all the projects/homemade stuff i've shown you guys here.. someone that spends that much time playing around with it all really should be more knowledgeable
4. despite my retardedness, i'm going to try to make a pair of velvet harem pants
(tryyyyy).
but how awesome does that sound??
5. my birthday is at the end of this month and i am really pretty terrified to turn 22 (but let's save that for another post). anyways, you know how anthropologie gives you 15% off your birthday month? they send you this little card -- and this year it came with a "candle necklace". how cute!
... and how useless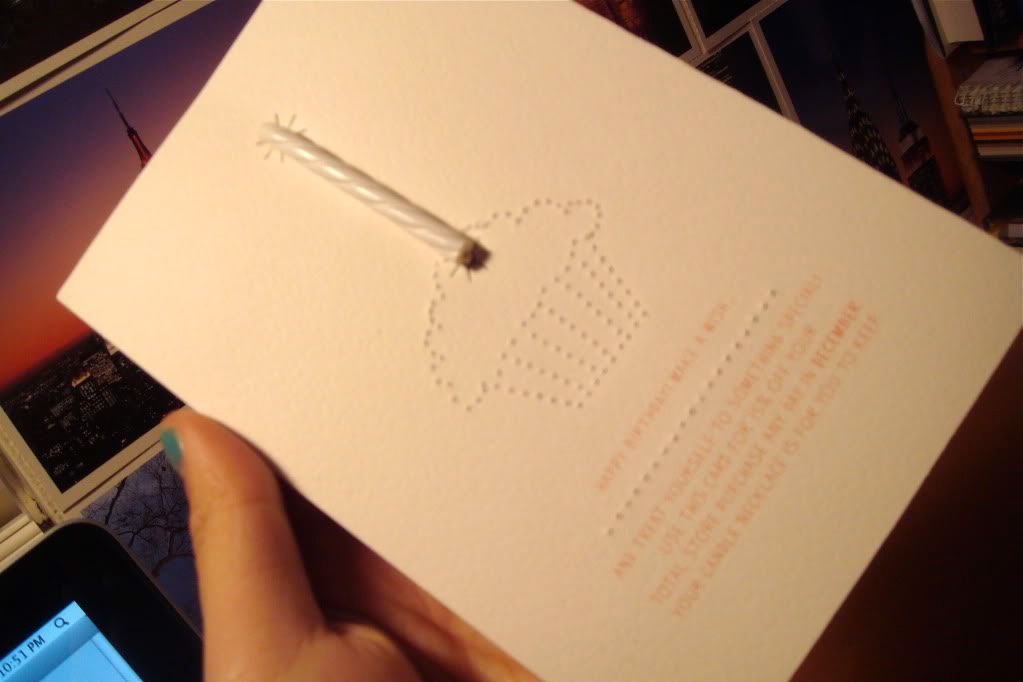 6. green is one of my favorite colors, but i don't really find myself wearing it much anymore...
7. i just found out today that i'll be writing the "style and fashion" section for
the examiner
in my local area! should be fun and maybe i'll make some pocket change too while i'm at it! i'll give you guys more deets once it's up and running.
i am tagging
christen
,
lexy
,
jasna
,
kristy
,
amy
,
carrie
, and anyone else that wants to do the tag! thank you guys for trotting over to this little corner of the www. =)
goodniiiiiight.